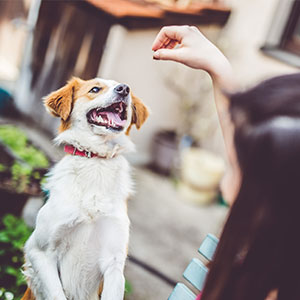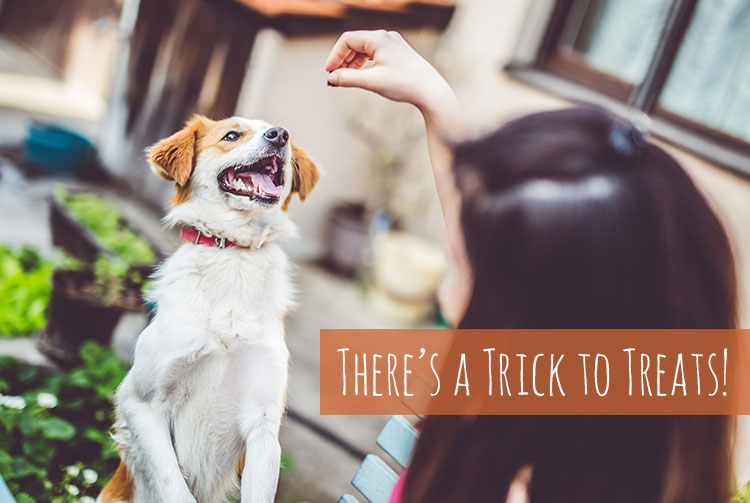 There's a Trick to Treats! – One of the best examples of why dogs need supervision at treat time is in "Turner and Hooch". Tom Hanks leaves Hooch unsupervised in the car for "just a minute" and when he returns, he finds Hooch has snacked on the entire car interior.
Since most of us would prefer our pups not feast on the interior of our Mustang, we need to consider a few things when deciding upon a treat for our canine companion. What are we trying to achieve with the treat… fighting boredom, some dental hygiene, or just a quick reward? Once you know your goal, choosing a treat is much easier.
For fighting boredom and assisting with dental health (even if you brush her teeth), raw/uncooked bones are the way to go. Cooked bones become brittle and are likely splinter, potentially resulting in an unwanted trip to the vet. Raw bones provide calcium and phosphorus, as well as other nutrients. Gnawing on a bone feeds a dog's need to chew, relieves stress and anxiety, all the while scraping tartar off her teeth making it even better than brushing. Just make sure the bone is large enough that your dog cannot get the entire thing in her mouth and make sure to supervise your dog whenever she has one.
For something a little less intense, bully sticks or woof stix are tasty, easy to chew treats and are highly digestible. They come in different thicknesses, sizes and shapes to accommodate any dog. Jerky treats made exclusively for pets are even easier to chew and are wonderful for less intense chewers. Never give your pup jerky made for humans, as it may contain ingredients harmful to your dog. Bully sticks and jerky also can provide dental health benefits.
If you are looking for a quick and easy treat to reward your pup for being awesome, meat rolls and soft treats are just the thing. Although great for any dog, these treats can be perfect for seniors or dogs with dental issues. To add a bit of mental stimulation for your pup, place them into treat dispensing toys or hide them around the house.
Regardless of your goal, make sure your treats are as healthy and natural as possible. You want to avoid chemical preservatives such as BHA/BHT, artificial sweeteners, soy, and corn to name a few. Look for real products you can identify and pronounce, such as turkey, mixed tocopherols (Vitamin E based preservative), or rosemary. Products made in the USA are also a bonus.
With a bit of thought and planning, treat time can be fun and healthy for our critters and ourselves…and help us avoid a Hooch style chewing disaster.
—Kim P.
Canine behavior coach, behavior advisor, training counselor.
https://www.happyhowies.com/wp-content/uploads/2019/08/trick_blog_300px.jpg
300
300
Happyhowiesblogger
https://www.happyhowies.com/wp-content/uploads/2016/02/HH_header_logo-Desktop.png
Happyhowiesblogger
2019-10-04 09:00:07
2019-10-04 06:48:44
There's a Trick to Treats!