With Valentine's Day just around the corner, it is the perfect opportunity to spoil your dog—with more than just dog treats. Here at Happy Howie's, we feel that all around well being for your dogs is not only affected by what he/she eats, but what your dog does—how it's trained, how it plays, and how it interacts. We often stress the importance of good health, so we make our all-natural treats with the only the best ingredients. But, before we try to sell you on treats—since we already did something right to get you here :-)—we want to share some dog toys that come recommended by indestructible dog that would make a great gift idea for your favorite Valentine!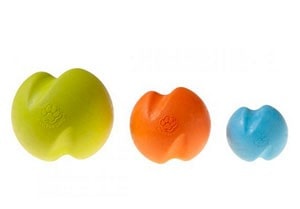 The Jive Ball by West Paw Design
The Jive Ball is a super bouncy, fun toy that has an interesting shape making it bounce in different directions. Made in the USA, West Paw Design has created a toy that not only keeps your dog moving to catch it but its super durable too! A great perk with this ball is that it also floats—so all your water loving pooches can play fetch too! Learn More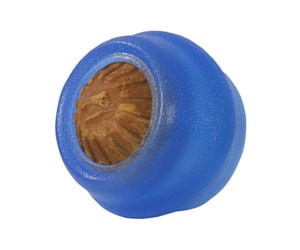 The Everlasting Treat Ball by Starmark
A Ball + Treat = match made in dog heaven! This ball keeps your dog stimulated while equally making him/her happy—it's a win-win all around. It comes with a treat inserted, but when it's gone perhaps fill it up with some Happy Howie's treats! This treat ball encourages play, helping to reduce anxiety and boredom. Learn more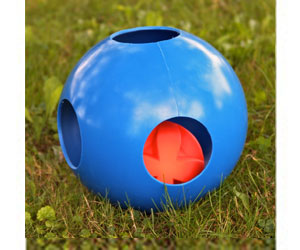 Paw-zzle Ball by Hueter Toledo
Drive your dog crazy for hours (the good kind of crazy) with this interactive toy! Manufactured in Ohio, this toy is a ball inside a ball. Your dog will spend countless hours trying to get it out—which it won't. Stuff it with some treats & watch your dog go wild with fun! Learn more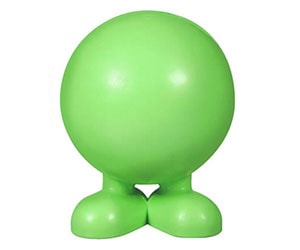 Good Cuz/Bad Cuz by JW Pet
What's so great about this ball with feet? It squeaks! What dog doesn't love a durable, fun squeaky toy? The JW Cuz is a resilient, unique toy that will be your dog's new best friend. Learn more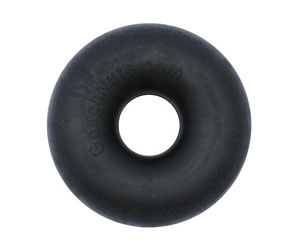 GoughNuts Black by GoughNuts, LLC
Let's say your dog of the kind of pet that loves to chew on anything when given the opportunity. GoughNuts is a perfect toy for them! GoughNuts is one of the toughest dog toys around—durable for your perfectly destructible pooch! The best part, for those worrisome pet parents: If your dog eventually chews a chunk out to reveal the red center then you know it's time for a new toy! Learn more
We hope this helps you to find something for your perfect Valentine—your loyal companion! But if these don't work out, there are always plenty of delicious Happy Howie's goodies to treat them with…
Stay tuned for a limited time "Be Mine" Valentine Pack special!
https://www.happyhowies.com/wp-content/uploads/2016/01/paw-zzle-1.jpg
250
300
Happyhowiesblogger
https://www.happyhowies.com/wp-content/uploads/2016/02/HH_header_logo-Desktop.png
Happyhowiesblogger
2016-02-03 09:00:13
2018-05-23 16:23:25
Treat Your Favorite Valentine!