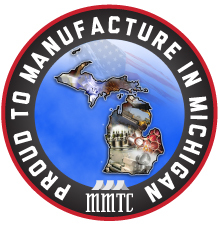 Happy Howie's Inc. is delighted to announce that we are now an official member of the "Proud to Manufacture in Michigan" program through Michigan Manufacturing Technology Center (MMTC)!
MMTC assists Michigan's small and medium-sized businesses, such as ourselves, compete and grow through personalized client services, leadership development, product/process drive and innovation, and company-wide promotion for growth and profitability.

"Success doesn't just happen. It takes driven, dedicated, experienced, full-time professionals – like the kind at MMTC, working together to keep Michigan manufacturing strong."—MMTC
MMTC has launched the "Proud to Manufacture in Michigan" program to raise awareness of Michigan's manufacturing community and products made in our state. Happy Howie's Inc. is thrilled to be a part of this program because we are proud to manufacture all natural dog treats, not only in the USA, but in the heart of Detroit!
"We are proud to be a member of PTMIM. It's a great feeling being part of a group of companies that are doing for manufacturing what Silicon Valley has done for technology." —David Collado, President, Happy Howie's Inc.
Visit our Happy Howie's Inc. profile page: http://www.mmtc.org/proud-to-manufacture/food/happy-howies.html
To learn more about MMTC and the "Proud to Manufacture in Michigan" program, visit: http://www.mmtc.org
https://www.happyhowies.com/wp-content/uploads/2016/02/HH_header_logo-Desktop.png
0
0
Happyhowiesblogger
https://www.happyhowies.com/wp-content/uploads/2016/02/HH_header_logo-Desktop.png
Happyhowiesblogger
2015-07-10 11:56:22
2015-09-09 13:29:49
Proud to Manufacture in Michigan