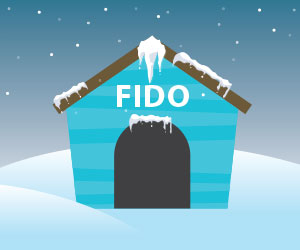 Alas, the ground is covered with ice and/or snow, and the cold temperatures are here to stay for a while. Even if your dog likes the snow, it may be difficult to get him or her outside to run around and get some energy out. Needless to say, when it gets cold outside it can be difficult to find physical and mental stimulation for your dogs—we can't blame them for not wanting to be out in negative degree weather, brr!
The Solution? Simple INDOOR activities that will keep your dog happy, healthy and entertained for the cold months ahead:
Tricks and Training
Are there some tricks that you've seen and thought it would be awesome to teach your dog? Now is the perfect time! There are so many tricks that your dog can learn. Make it a goal to help them master a new one—stop begging, how to come/stay, to shake, sit pretty, etc. There are many to choose from, including one of our favorites: how to train your dog to give a hug.
Feeding Time Challenge
When its time for food, make your dog work for it! Hiding their food somewhere in the house will make them work to find it—giving them the mental stimulation they need. This is also great with treats—Happy Howie's meat rolls are perfect for cutting up & hiding, and they are trainer-approved. Leaving a trail of food may help them find what they are looking for!
Obstacle Course
Creating a simple obstacle course doesn't have to take much time or effort, especially if your dog has mastered over, under and through. Boxes, couch cushions, chairs and steps are enough to get your dog moving around—even in a small space! Not to mention stairs are great for expelling a lot of energy.
Hide-n-Seek
Do you remember having fun playing this game when you were a kid? Well, just because you may not be a kid anymore doesn't mean it can't still be fun with your dog. Put your dog in a stay position while you run and hide. When you are ready, call for him/her! Make sure to have a reward waiting for them. Hide-n-seek is a perfect way to wear your dog out.
Mind Games
There are many mind games that are a perfect way to exercise your dog's brainpower—while giving you a break. One toy is a seek-a-treat shuffle bone dog puzzle: a fun toy that makes your dog not only use his/her nose to smell out the treats, but to move the sliders so he can get to them. There are many different types of puzzles, 10 of which can be found here
Remember, Happy Howie's dog treats are PERFECT for training, and are dog tested & trainer approved. Don't let the cold, winter weather be your reason for not actively playing with your dog!

Check back with us again soon for more of Howie's Howl
https://www.happyhowies.com/wp-content/uploads/2016/01/fido.jpg
250
300
Happyhowiesblogger
https://www.happyhowies.com/wp-content/uploads/2016/02/HH_header_logo-Desktop.png
Happyhowiesblogger
2016-01-20 10:31:02
2018-05-23 16:24:16
Indoor Winter Activities for your Dog