Welcome to Howie's Howl!
Howie's Howl is the perfect way to stay up-to-date with what's happening at Happy Howie's! Our dog blog is a great resource for pet parents too—offering dog advice, gift ideas & safety tips! Check back often for Happy Howie's news, events, contests & more!
For more pet-parent information, be sure to follow us on Pinterest!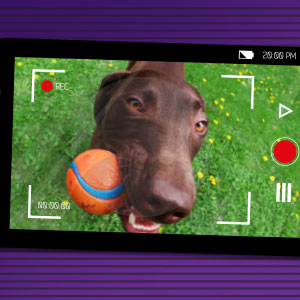 It's back! Happy Howie's second annual video contest! We loved seeing your submitted videos last year & we want to see more! Show us what your dog will do for Happy Howie's! Whether it's showing off their best trick, begging like a dog (pun intended) or jumping through hoops to get to their Happy Howie's treats—have fun with this!
Get those cameras rolling—the contest will be open for entries Friday, June 2nd via Happy Howie's Facebook page. Participants will have 2 weeks to submit their video. Once all entries are in, the videos will be posted and available for voting starting Friday, June 16th. Voting will close Thursday, June 29th at 11:59pm EST. Winners will be announced on June 30th & the winning video will be featured on our YouTube Channel & website!
Grand Prize: Winner's choice of Happy Howie's Fleece or T-Shirt + a special sampler box of Happy Howie's most popular treats! The winning video will also be featured on Happy Howie's YouTube Channel for all to see & enjoy.
We're treating the winning Pet Parent & Pooch!
Second Prize: Happy Howie's Sampler Box!
Third Prize: Happy Howie's Sampler Box!
Click here to enter today!
FYI: If entering using the contest hashtags via instagram or twitter, your profile & video cannot be private. If entering via Facebook using the contest hashtags, you must post your video directly to the Happy Howie's Facebook page timeline to be entered.
Please allow 4–6 weeks for delivery of prizes.
See contest link for Official rules/regulations.
We hope everyone has fun and enters their favorite videos of their furry friends—we can't wait to see them!
https://www.happyhowies.com/wp-content/uploads/2017/05/HH-video-contewst-blog-thumbnail.jpg
300
300
Happyhowiesblogger
https://www.happyhowies.com/wp-content/uploads/2016/02/HH_header_logo-Desktop.png
Happyhowiesblogger
2017-05-25 16:06:00
2018-02-21 12:07:12
"What would your dog do for Happy Howie's" Video Contest!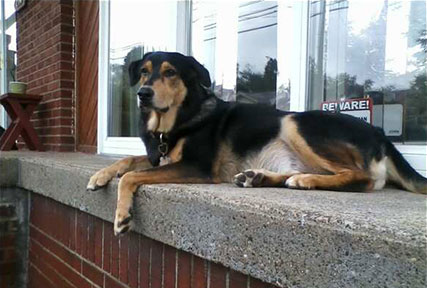 As told by pet-parent: Mary Jo
I originally was introduced to Happy Howie's Dog Treats from a dog supply store, Leone in Murrysville, PA. The lamb sausage sticks are his ABSOLUTE favorite treat—as you can see in this video:
Here is my dog Magnum, getting his favorite treat (Happy Howie's lamb sausage treat), on his 7th Birthday!!!
Magnum is a male mixed breed, both Doberman and Shepherd or Labrador blend. I got him in 2006 from Action for Animals in Latrobe, PA when he was 3 months old.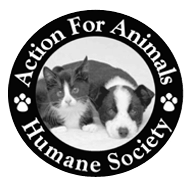 Nothing has been more motivating for him than offering a lamb stick as a reward!!!!
I buy them direct from Happy Howie's now and get them amazingly quick. I buy the 12" sausage links and the 4" sausage links (easier to take with me to the park).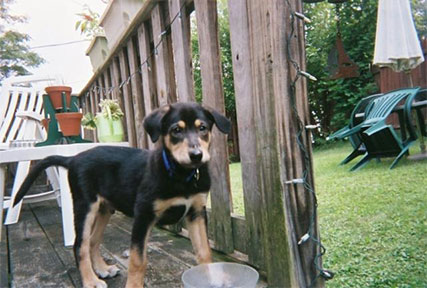 Here is the day I brought him home, at 3 months old.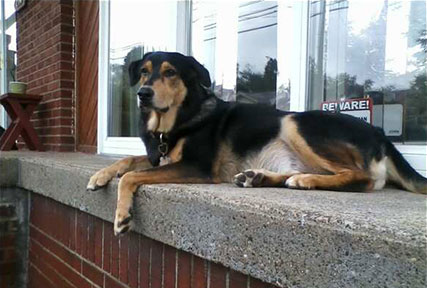 Here he is at 7 years old.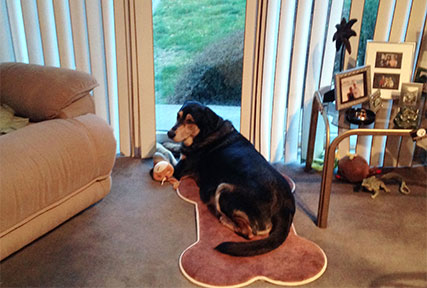 And now, at 12 years old.
Also, my good friend has a Yorkie, named Sweat Pea who loves the lamb sticks. The 4" sausages are more her size, although she has been known to tackle the 12" sausages at Christmas!


This is his friend, Sweet Pea, with her birthday present—a 12" Lamb sausage treat. So you can see how tiny she is!!!!
Thanks for making all your products and my dog so happy! All his friends too! Any of them that got one, LOOOOVVVVEEEDDD them!
---
Submit your story today: https://www.happyhowies.com/happy-howies-wants-hear/
If featured we will send you a 10% off promo code as a thank you! See site for details.
https://www.happyhowies.com/wp-content/uploads/2017/04/magnum-7years.jpg
288
427
Happyhowiesblogger
https://www.happyhowies.com/wp-content/uploads/2016/02/HH_header_logo-Desktop.png
Happyhowiesblogger
2017-04-21 16:00:17
2018-01-05 13:45:22
Magnum's Happy Howie's Story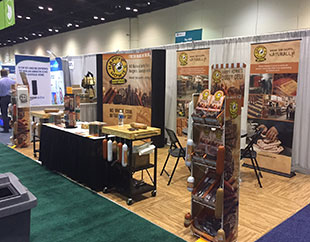 Global Pet Expo is the biggest Pet Industry gathering of the year—Pet Retailers, Distributors and Manufacturers from all over the world turn out in large numbers for this annual event. The 2017 show, March 22–24th at the Orange County Convention Center in Orlando, Florida, was no exception!
I'm happy to report that the Global Pet Expo was a huge success for Happy Howie's! We prominently featured our merchandising tools at this year's show, including the Happy Howie's Doggy Deli Floor Display, and our new Happy Howie's Deli Snack Station. Both of these displays offer our retailers an easy and efficient way to offer our products as impulse sales, and were met with enthusiastic approval by the trade! We were excited to write an unusually large number of orders at Global this year (mostly display assortments).

Many of our existing customers stopped by to see us, as well as numerous new faces. We even had the opportunity to sample our treats to the many canines in attendance!

I have been attending this event for many, many years. This was by far the busiest I have ever seen this show!
The Pet industry is alive and well!
—Wayne Whitney, Happy Howie's National Sales Manager
https://www.happyhowies.com/wp-content/uploads/2017/04/display.jpg
242
310
Happyhowiesblogger
https://www.happyhowies.com/wp-content/uploads/2016/02/HH_header_logo-Desktop.png
Happyhowiesblogger
2017-04-03 12:18:39
2018-02-21 12:07:24
Global Pet Expo 2017