Welcome to Howie's Howl!
Howie's Howl is the perfect way to stay up-to-date with what's happening at Happy Howie's! Our dog blog is a great resource for pet parents too—offering dog advice, gift ideas & safety tips! Check back often for Happy Howie's news, events, contests & more!
For more pet-parent information, be sure to follow us on Pinterest!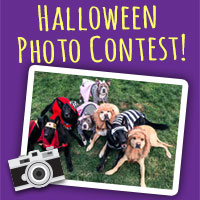 Happy Howie's Halloween Dog Costume Photo contest is back! We hope everyone has fun and enters their favorite fuzzy friends in their best costume.
Contest is now open for entry here on Facebook, or you can enter your photo on Instagram and/or Twitter using hashtag #HHBestCostumeContest! You have until October 16th at 11:59pm EST to enter your photo! Only 1 entry per dog & per social media account. To keep fairness, previous contest winners cannot win. If entering using the contest hashtag your profile must be set to public (not private) for the entry to come though.
Photo entries will then be available for voting October 17th until October 30th @ 11:59pm EST. Winners will be announced on Halloween, October 31st. The Winning photo will be featured on our homepage!
Grand Prize: Happy Howie's Sample Box!
The Grand Prize Winner will receive a special sample box of Happy Howie's most popular treats: including:
Beef Gourmet Meat Roll
2″ Mini Doggy Burgers
4″ Beef Burger Chews
6″ Woof Stix
12″ Beef Doggy Jerky
12″ Beef, Turkey & Lamb sausages (one of each flavor)
Baker's Dozen Beef, Turkey & Lamb 4″ Sausage Pouches (one of each flavor)
11 items total, valued at $59.99!
Second & Third Prize(s): Happy Howie's Variety Pack!
This pack includes:
Two 4″ Burger Chews
Five 4″ Turkey Sausage Treats
We look forward to seeing your festive pups! Happy Halloween!
To read the official contest rules, click here.
https://www.happyhowies.com/wp-content/uploads/2017/09/feature_200x200px.jpg
200
200
Happyhowiesblogger
https://www.happyhowies.com/wp-content/uploads/2016/02/HH_header_logo-Desktop.png
Happyhowiesblogger
2017-10-03 08:51:34
2018-02-21 12:06:55
Halloween Dog Costume Photo Contest is back!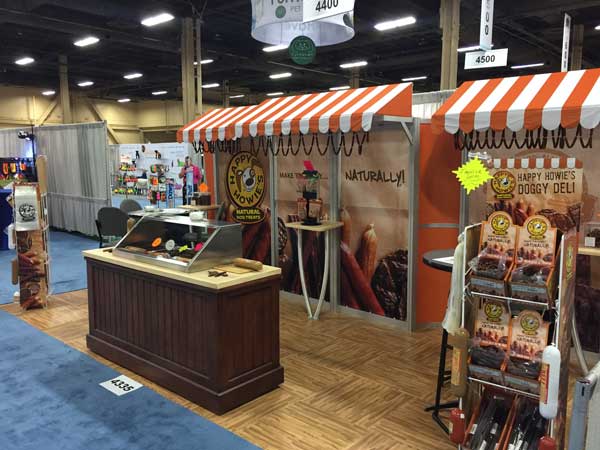 Another SuperZoo is in the books!
As one of the two largest industry trade shows (the other being the Global Pet Expo) this was a very important show for Happy Howie's.
Not only did we get to speak to the most influential distributors and retailers in the industry, we got to meet in the confines of our brand new trade show booth! Our new show booth occupies 20 linear feet and screams "Come look at the Happy Howie's Deli!" We had random attendees and exhibitors stopping by just to tell us how much they liked the new look!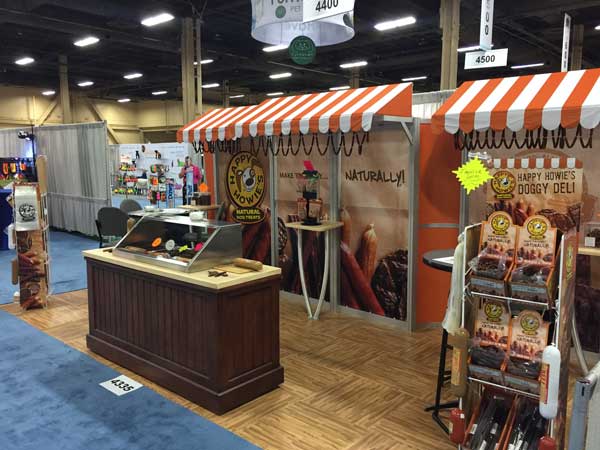 Image is everything at shows like this. Our new look speaks volumes to our existing customers and our potential future business partners.
People were using the windowed deli display case in the center of the booth as their preferred meeting place. They got to see a selection of our many product forms arranged inside the case as they discussed our products and merchandising. It couldn't have worked out better.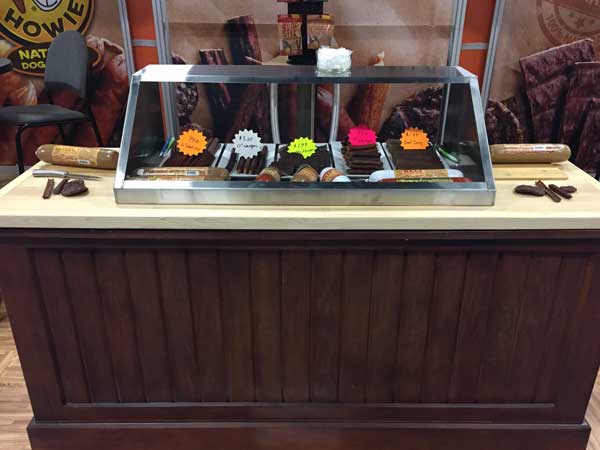 Dogs are allowed at this show, so we had the opportunity to see them react to our products. Some of the owners had to literally drag their dogs away from the booth after sampling our treats! Some of them actually circled back to have another snack! It's funny to see the look on the owner's face when the dog snaps up a sample of our Premium Meat Roll seconds after they say "My dog doesn't eat treats, or much of anything else."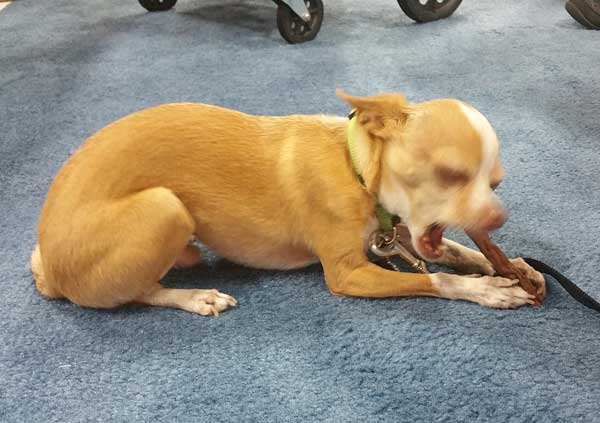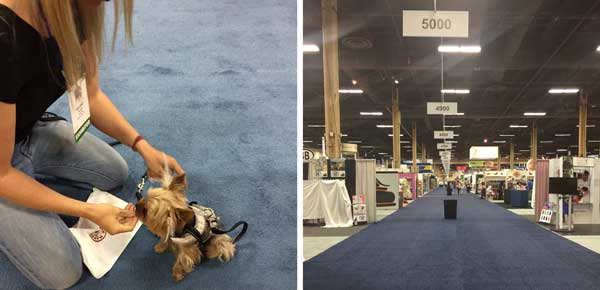 It was great to meet and greet our growing family of dealers and distributors from around the country!
We are looking forward to doing this show again next year!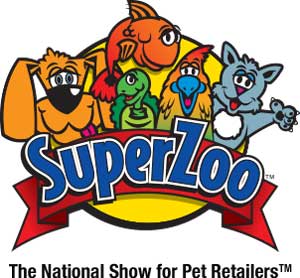 https://www.happyhowies.com/wp-content/uploads/2017/08/happy-howies-superzoo-booth.jpg
450
600
Happyhowiesblogger
https://www.happyhowies.com/wp-content/uploads/2016/02/HH_header_logo-Desktop.png
Happyhowiesblogger
2017-08-03 14:29:53
2018-02-21 12:07:00
SuperZoo 2017 Recap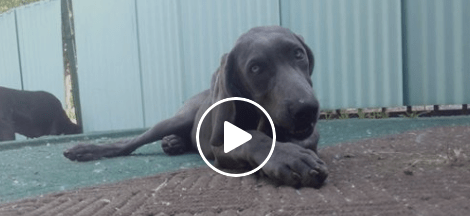 Thank you to the participants in our second annual video contest—both entrants & voters!
We are happy to announce the following winners:
Grand Prize:

"Bennie says if you don't buy me some Happy Howie's All Natural Dog Treats I am going to eat all the sticks in the yard and there won't be any trees left. Think green and be happy."
Prize: Winner's choice of Happy Howie's Fleece or T-Shirt + a special sampler box of Happy Howie's most popular treats!
Second Prize:

"What will your dog do for #happyhowies #nomnom #HHVideo2017 #happyhowie #besttreats #nowwatchmesitdogtraining #ohiodogs #ohiodogtrainers"
Prize: Happy Howie's Sampler Box!
Third Prize:

"Jazz will run through anything to get her Happy Howies"
Prize: Happy Howie's Sampler Box!
Congratulations to all our winners!
We appreciate everyone taking the time to participate.
For our winning pet-parents, we will be reaching out to you via the information provided in your submission to fulfill your prizes.
https://www.happyhowies.com/wp-content/uploads/2017/06/Screen-Shot-2017-06-29-at-2.54.52-PM.png
216
470
Happyhowiesblogger
https://www.happyhowies.com/wp-content/uploads/2016/02/HH_header_logo-Desktop.png
Happyhowiesblogger
2017-06-30 09:56:41
2018-02-21 12:07:04
2nd Annual "What Would Your Dog Do for Happy Howie's" Video Contest Winners 2017