Welcome to Howie's Howl!
Howie's Howl is the perfect way to stay up-to-date with what's happening at Happy Howie's! Our dog blog is a great resource for pet parents too—offering dog advice, gift ideas & safety tips! Check back often for Happy Howie's news, events, contests & more!
For more pet-parent information, be sure to follow us on Pinterest!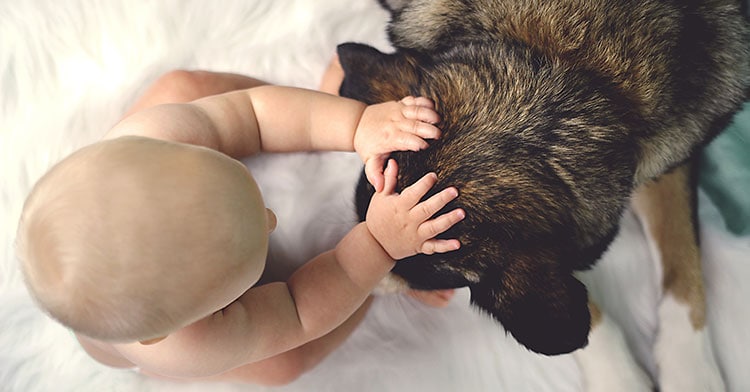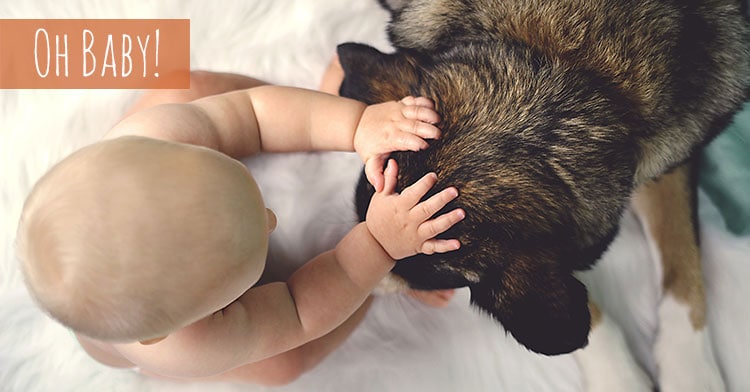 Oh Baby! I can speak from personal experience that life as an only child is pretty fantastic. Undivided attention from your parents, the occasional dessert for dinner, perhaps a few less rules, and no one ruining your favorite concert shirt…what's not to love?! Then the unthinkable happens when, without your consent, a new pack member is added and everything changes.
There are a few steps you can take to ease your dog's transition from only child to big sister. Think about what is going to change for her, besides a tiny 8 lb human alarm clock going off at 2 am. Will she still sleep in bed with you, stay in your room, or will her sleeping area change completely? How much attention is going to shift away from her? Will she still get her daily walk in the woods or dog park time?
To assist your dog in preparing for the big arrival, use her keen sense of smell to your advantage. Decide upon some products you will be using for the baby, such as soap or shampoo, and begin using them before the baby's arrival. This lets your dog become familiar with the scent, helping her recognize the baby as part of her pack.
Chances are the newest addition will be sleeping in your room. If you are planning to move your dog out of your bed or out of the room entirely, start that transition well before the baby arrives. Make sure the new area is comfortable as possible. Include a blanket or piece of clothing you have slept with, so she still has your scent as she drifts off to dreamland.
When in the hospital after delivery, wear a t-shirt or hoodie while holding the baby, then bring it home so your dog can start getting to know the baby's scent before his actual appearance.
Remember love is like sunshine, sharing it doesn't mean you get less. Although you may be inclined to shower your dog with as much attention and play time as possible, "making up" for what she will be missing after the baby's arrival, you actually want to do the opposite. Slowly decrease the amount of playtime beginning about a month before the baby's anticipated arrival. This way she doesn't have to go "cold turkey" when her little brother shows up.
With a few minor preparations, your dog will easily adjust to her new role as big sister. In fact she may enjoy it even more than being an only child, just like I did…well I mostly did.
—Kim P.
Canine behavior coach, behavior advisor, training counselor.
https://www.happyhowies.com/wp-content/uploads/2018/03/oh-baby-blog.jpg
392
750
Happyhowiesblogger
https://www.happyhowies.com/wp-content/uploads/2016/02/HH_header_logo-Desktop.png
Happyhowiesblogger
2018-08-10 10:00:06
2018-05-01 11:34:57
Oh Baby! – Welcoming a New Human to the Pack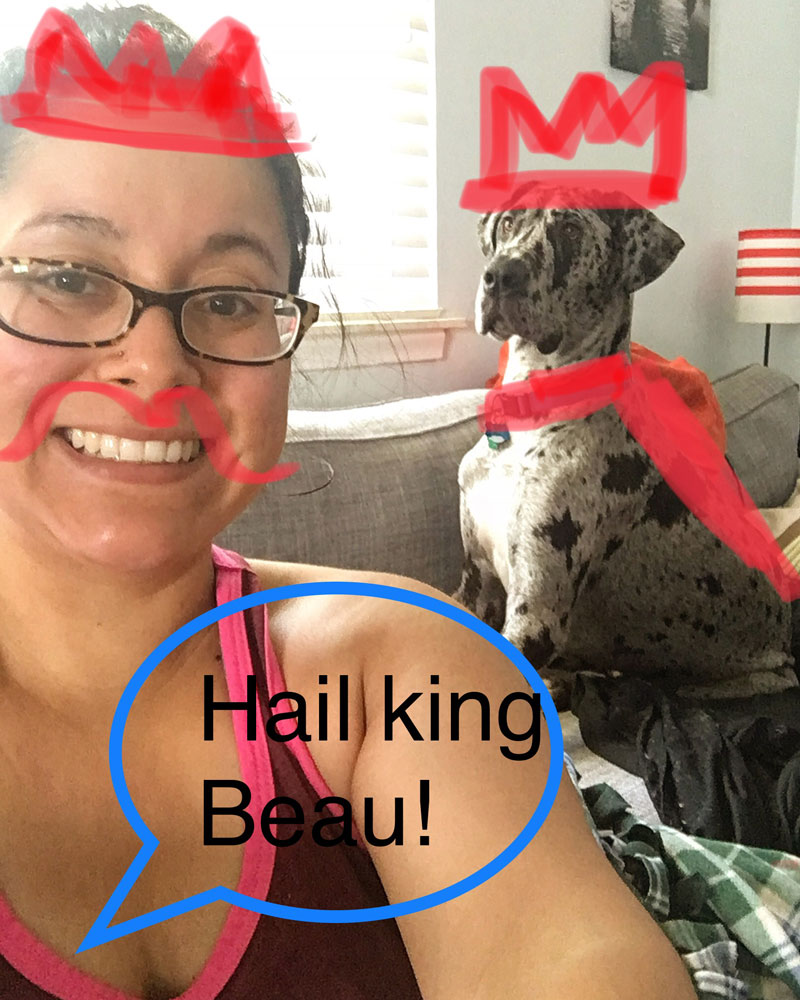 Silly Selfie Contest Winners 2018 – We would like to send out a huge THANK YOU to everyone that have participated in our first Happy Howie's "You & Your Dog Silly Selfie" Contest—whether you submitted a photo or came back to vote. We love ALL the fun entries we received.
We are excited to announce the following winners:
First Prize
With 38 votes!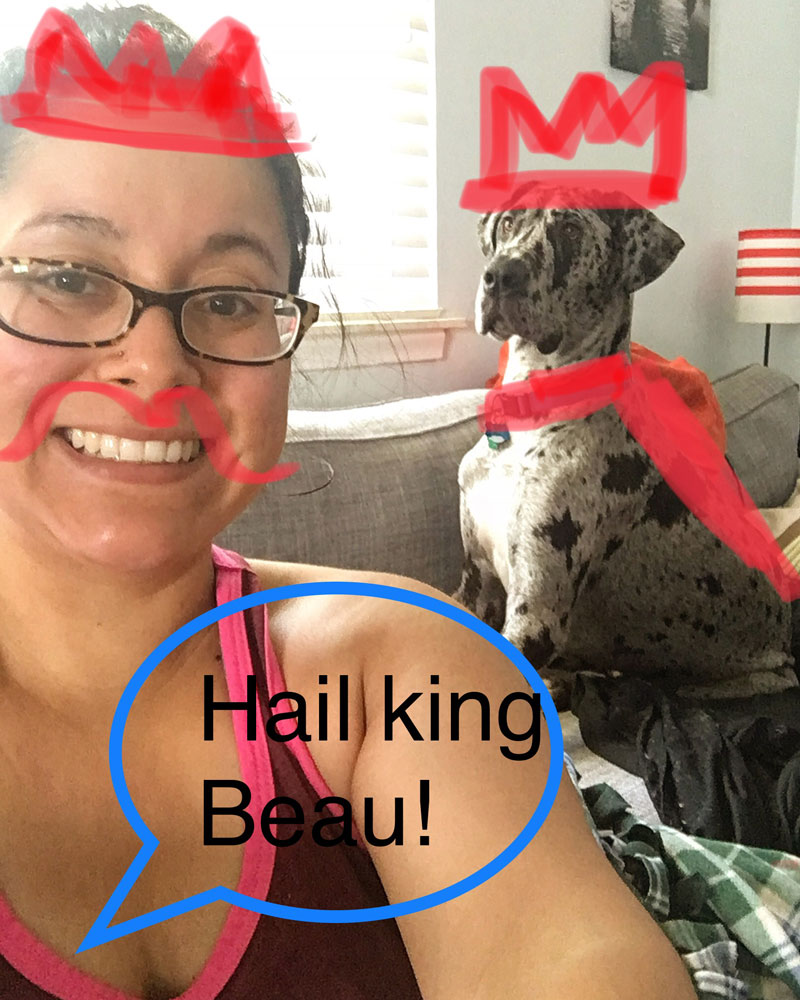 "The king and his subject"
Cynthia will receive:
A special sampler box of Happy Howie's most popular treats.
Second Prize
With 8 votes!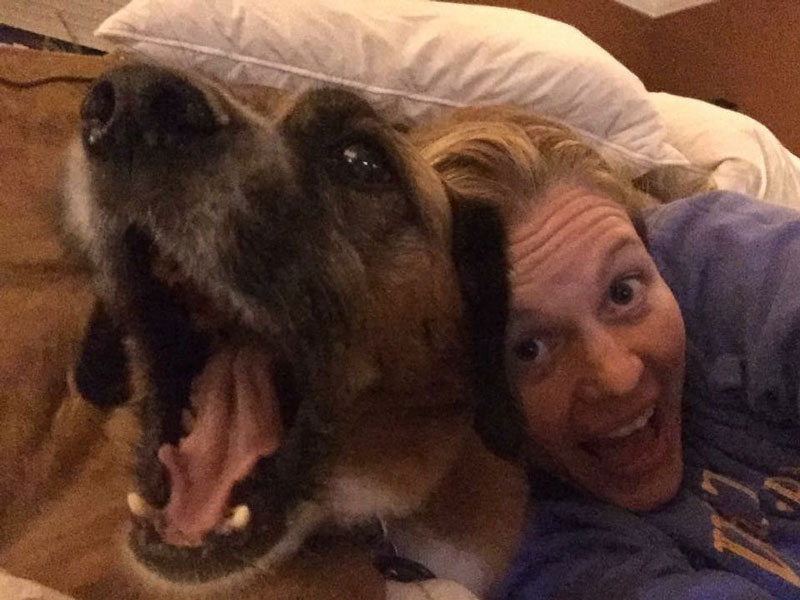 "WHAZZZZUUPPPP!!!"
Julia will receive:
A Happy Howie's Backyard BBQ Pack

Third Prize
With 6 votes!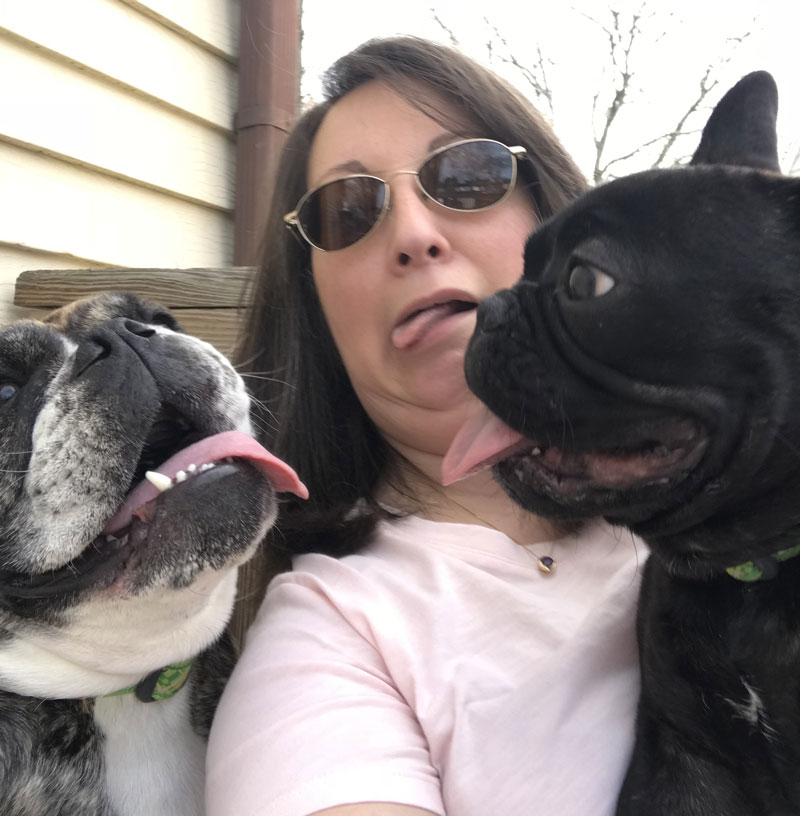 "The Three Amigos "
These sweet pups, together, will receive:
One-time use promo code for 20% off happyhowies.com
---
Congratulations to all our winners!
We appreciate everyone taking the time to participate to make our contest a success.
Please be sure to continue to follow us—we will continue to offer fun and exciting products, contests and updates throughout 2018. For our winning pet-parents, we will be reaching out to you via the information provided in your submission to fulfill your prizes.
https://www.happyhowies.com/wp-content/uploads/2018/04/first-place-winner.jpg
1000
800
Happyhowiesblogger
https://www.happyhowies.com/wp-content/uploads/2016/02/HH_header_logo-Desktop.png
Happyhowiesblogger
2018-06-29 09:14:08
2018-08-23 10:15:04
Silly Selfie Contest Winners 2018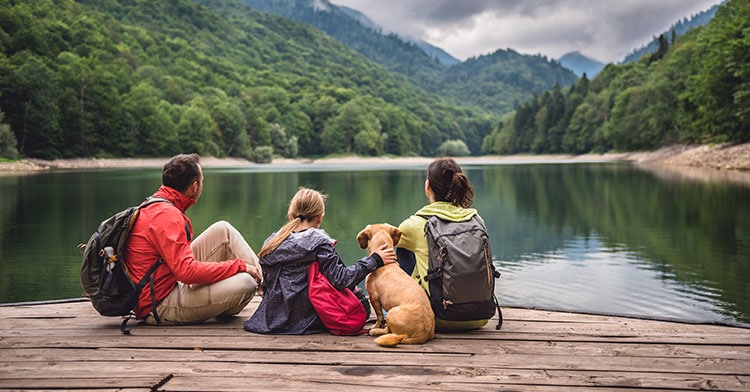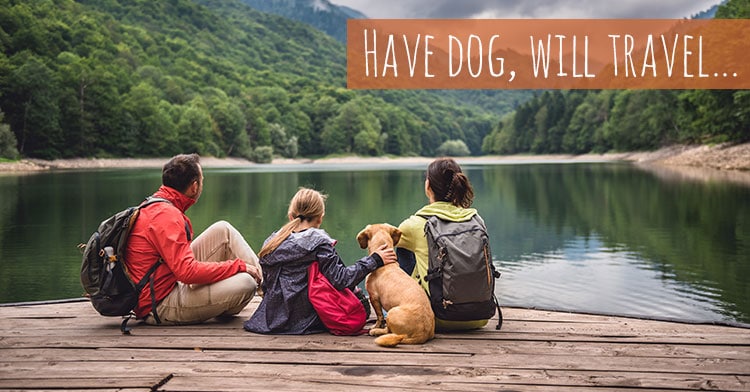 Have Dog, Will Travel: Whether its hiking trails in state parks, hitting the beach or visiting the World's Largest Ball of Twine, there is nothing like a good vacation. Taking in different scenery, indulging in new experiences, spending time with loved ones is good for all members of the family, dogs included. With a bit of planning, you can avoid a Griswold style catastrophe and make traveling with your furry family member an epic success.
First, do your research. Determine which accommodations, attractions, and parks are pet friendly. Contact places you are considering to confirm their policies. Ask about size, restrictions on multiple pets, extra fees, or any other rules you need to know about. Websites may not be up to date and policies may have changed. You don't want to arrive at Wallyworld to hear "Sorry folks, No Dogs Allowed. The moose out front shoulda told ya."
Know your dog and be realistic. If he believes it's his job to bark and alert you of strange noises, people, or blowing leaves, staying in a hotel may not be the best choice. The privacy of renting a cabin is a much better, and less stressful option.
Crate train your dog. Crates are basically canine mobile homes and will make your dog feel more secure in a strange environment. Most accommodations are much happier to have four legged guests if you can assure them your dog will be crated in your absence. Owners of a great little resort in Michigan's Upper Peninsula once told me, "I'd rather have dog guests instead of human ones, because dogs never leave the bathtub running and flood the room."
Brush up on the obedience basics: sit, stay, no jumping or barking, walking politely on leash. Like it or not, we are ambassadors for all pet travelers. Good manners go a long way to ensure venues continue to welcome furry travelers. Make sure everyone you come into contact with, from hotel and wait staff to park rangers and other guests, have a positive experience with your canine companion.
Before hitting the road, inspect all collars, harnesses, leashes, and seatbelts to make sure they are in good working order to keep your pet secure. Make sure your dog is wearing a current ID tag with your mobile number.
Unfortunately dogs can't pack for themselves, and if they did it would be a backpack full of tennis balls. Although you don't need a suitcase full, do pack a few toys and a blanket for his crate. Bring plenty of food, treats and water from home. Switching suddenly from city to well water or even to different municipality water can cause digestive problems that no one wants to deal with. If you are hitting multiple destinations, you may want to use bottled water.
Also be sure to be prepared for emergencies. Pack an animal first aid kit, as well as current vet records, vet phone number, microchip information and have a current picture of your dog available.
By doing a little research and preparation, you can ensure vacationing with your dog far is more enjoyable than any Griswold family trip.
—Kim P.
Canine behavior coach, behavior advisor, training counselor.
https://www.happyhowies.com/wp-content/uploads/2018/03/have-dog-woll-travel-blog.jpg
392
750
Happyhowiesblogger
https://www.happyhowies.com/wp-content/uploads/2016/02/HH_header_logo-Desktop.png
Happyhowiesblogger
2018-06-08 11:00:37
2018-05-01 11:19:49
Have Dog, Will Travel – Road Tripping with Your Dog