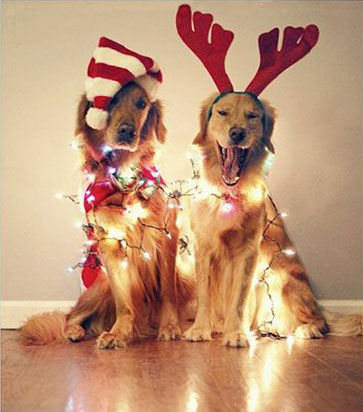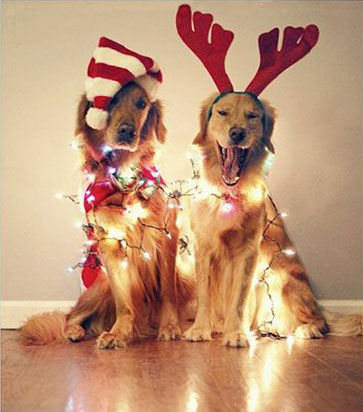 Photo found via Pinterest
The holidays are fast approaching!
It can be quite a joyful experience gathering loved ones to enjoy the holidays together as a family—indulging in family recipes and carrying out traditions. As much as it can be the "most wonderful time" of the year, it can however be very stressful for our pets. Keep your pets healthy and safe with the following holiday tips:
Keep a Regular Routine
Pets can be extremely sensitive to sudden change. It is important to keep your pets on a regular schedule to reduce unnecessary stress. With all the different holiday plans, company, and/or travel, be sure to maintain scheduled feedings, walks, exercise and play sessions.
Avoid hazardous holiday trappings
While the Christmas trees are up and decorated, it is important that we pay close attention to our dog's surroundings. Make sure your Christmas tree is very sturdy; pets tend to explore and may try to climb the tree—which can cause it to tip over and possibly cause an injury!
It is recommended to keep pets away from tinsel, popcorn strands, ribbon, string, and other wrapping accessories as serious injury, even death can occur if it is ingested.
Also, please consider using electrical cord containers for excess cords illuminating those festive holiday lights. Pets may chew on electrical cords when we're not looking, which can cause electrocution. You can even run cords them through PVC to prevent any electrical accidents.
Avoid giving your pets holiday foods
Keep your food and other people's food away from your pet. Those holiday cookies may look delicious, and your dog may be begging, but don't give in! Avoid giving your pet any chocolate, baked goods, turkey (including the skin), yeast dough and table scraps. If you want to include your pet in the holiday food festivities, make or buy treats formulated just for them. (Happy Howie's is a great option…)
Enforce positive training with Happy Howie's
Happy Howie's dog treats are a great training tool to help keep your pet calm during the holidays, especially with busy traffic in and out of your home. With Thanksgiving less than a week away, we would recommend our Turkey Premium Meat Rolls. Our meat rolls are the trainer-preferred treats throughout the country—slice it, dice it, break it or freeze it! Order here and your dog can enjoy some turkey (or beef or lamb if you prefer) too!
For more holiday pet advice, visit:
https://www.avma.org/public/PetCare/Pages/holidays.aspx
https://apdt.com/pet-owners/safety/holidays/
https://www.happyhowies.com/wp-content/uploads/2016/11/holiday-dogs.jpg
412
363
Happyhowiesblogger
https://www.happyhowies.com/wp-content/uploads/2016/02/HH_header_logo-Desktop.png
Happyhowiesblogger
2016-11-18 17:49:13
2018-05-23 16:00:31
Holiday Pet Safety Tips