In late April, Happy Howie's decided to take a trip to Colorado to visit independent retailers in two (Denver and Colorado Springs) of the 17 Best U.S. Cities for Dogs (as voted by Estately Blog; http://blog.estately.com/2013/05/17-best-u-s-cities-for-dogs/). After seeing 40 independent retailers in 4 days, we a few things to bark about.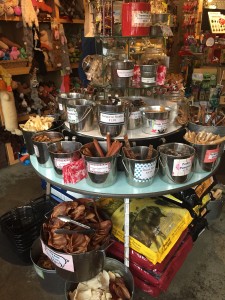 It doesn't get any better than beautiful spring weather, mountains in the background, All Natural Dog Treats, and of course, dogs! Dogs, dogs, and more dogs! The neighborhoods were lively with pet parents walking and playing with their best friends. From Denver all the way down to Colorado Springs, many dogs were enjoying the parks, dog-friendly coffee shops, and boutique pet supplies stores.
One of the many aspects of these cities that we were fascinated by is the ability to set trends in motion that carry over to the rest of the country.
One of the retailers, Wag n Wash natural food & bakery in Colorado Springs, was a one-stop-shop design to make a pet parent's life easier and spoil dogs. The store, like several others, has dog wash and grooming stations with a selection of natural foods and treats to fit the need of the most demanding pet parent. But, what really set this store apart was the in-house bakery. Wag n Wash's bakery was equipped with a bakery and a baker hand rolling and cutting cookies for dogs. Before you get a chance to take in the wide aisles and bright colors, your senses are drawn to the smell of freshly baked treats. There's no doubt stores throughout the country will pick up on this!
This was just one store among many other retailers in Denver and Colorado that deserve praise for helping to put their cities on the list of the 17 Best U.S. cities for Dogs. After 4 days and 40 stores, our paws are super tired!
Check back with us again soon for more of Howie's Howl
https://www.happyhowies.com/wp-content/uploads/2016/02/HH_header_logo-Desktop.png
0
0
Happyhowiesblogger
https://www.happyhowies.com/wp-content/uploads/2016/02/HH_header_logo-Desktop.png
Happyhowiesblogger
2015-05-01 11:31:13
2018-05-23 16:41:02
Happy Howie's Visits Colorado