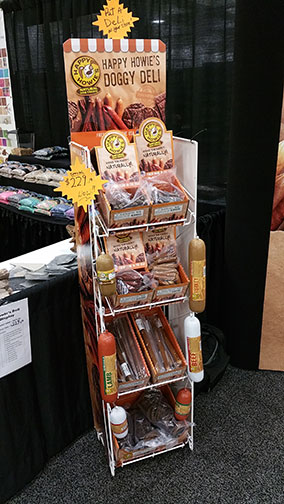 Saturday, September 26, Happy Howie's attended the Animal Supply Company (ASC Southeast) Fall Open House 2015, and unveiled the NEW Doggy Deli Floor Display! ASC Southeast—formerly Summit Pet—held their second open house of the year at the Benton Convention Center in Winston-Salem, NC.
The new Doggy Deli floor display was a hit! Happy Howie's product presentation breaks away from the standard treat merchandising that prevails in the industry—and pet shops agree! The Doggy Deli emphasizes the point that Happy Howie's All Natural Dog Treats are no ordinary treats. Happy Howie's treats are made fresh to order, and can take from 1–3 days to cook using only the highest quality, 100% natural ingredients. It's charcuterie for dogs! How many pet shops can say that they have their own Doggy Deli in their stores?
Additionally, pet stores were also excited to see Happy Howie's premium meat rolls as an alternative to competitor's meat rolls that crumble when cut. Premium meat rolls are a great treat and training tool, which can be frozen, sliced, diced, and/or grated. Many dog trainers have already made the switch to Happy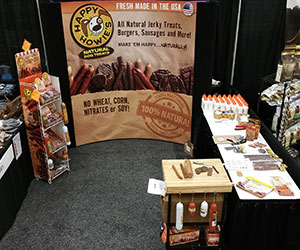 Howie's premium meat rolls, and aren't looking back!
It was wonderful to hear how pet shops enjoy telling consumers how Happy Howie's product is made to order in small batches—making us unique in product production and customer service/satisfaction. We hope, and anticipate that our new Doggy Deli will be a successful addition to our product display offerings!
Thanks ASC Southeast for hosting yet another great event!
Check back with us again soon for more of Howie's Howl
https://www.happyhowies.com/wp-content/uploads/2016/02/HH_header_logo-Desktop.png
0
0
Happyhowiesblogger
https://www.happyhowies.com/wp-content/uploads/2016/02/HH_header_logo-Desktop.png
Happyhowiesblogger
2015-09-29 21:05:54
2018-05-23 16:31:23
Happy Howie's Unveils the New Doggy Deli Floor Display!