On the News – Check out this article written by Karen Dybis about Happy Howie's All Natural Dog Treats and printed on The Detroit News. It appeared on the front page of the newspaper on Friday April 11, 2014.
————————————————————————————————————————-
David Collado, president of Happy Howie's, Inc., emphasizes delivering a quality experience to his customers. 'People want to serve their pets treats that look and feel like something you would eat,' he says. 'In their minds, they believe that if it's good for me, it's good for my pet.' (David Coates / The Detroit News). Of all the pet treats Happy Howie's produces, President David Collado is particularly proud of the "Doggie Burgers," a round delicacy that features all-natural ingredients such as beef, garlic and rosemary extract.
These dog treats look so close to a regular hamburger that a human might be tempted to taste it, Collado said. And, well, they are pretty tasty, he admits. After all, Collado wouldn't sell something to his customers that he wouldn't be willing to try himself.
That is what makes Detroit-based Happy Howie's a pet-treat success story — it has gone from a company on the brink of bankruptcy to one that is growing its sales and employee base rapidly, Collado said. And it is doing it in a way that appeals to an ever-growing audience of "foodie" pet lovers.
"We see it as we're not only making a treat. We're delivering an experience to our customers," said Collado, a Certified Public Accountant who took over the company in 2011. "People want to serve their pets treats that look and feel like something you would eat. In their minds, they believe that if it's good for
me, it's good for my pet."
As households adopt more cats and dogs, demand for industry goods such as pet foods, medicine and accessories increase. According to the American Pet Product Association's (APPA) National Pet Owner's Survey, 62 percent of U.S. households own a pet. And the average dog or cat owner spends about $250 annually on food for their pet, the APPA reported.
Unlike other retailers, pet stores never saw a big downturn because people continued to spend on their animals throughout the economic recession, according to research firm IBISWorld. Its analysts believe that trend will continue. In the five years to 2018, industry revenue is forecast to rise at an average annual rate of 4 percent to total $19.3 billion, up from $15.9 billion in 2013.
"By offering more innovative, specialized and premium products and services, pet stores have been able to cash in on pet owners' desires to pamper their pets," noted IBISWorld analyst Andy Brennan, and Happy Howie's certainly fits that bill.
The Happy Howie's story dates back nearly two decades. That is when the facility was home to Oink-Oink Inc., which specialized in Oinkers raw chews. Its owner began the company after a visit to Europe, where he saw companies selling pig ears and other animal hides as pet chews, Collado said.
Stories about Oinkers indicate that "the sky was the limit," on the business' potential, Collado said. "But something happened in the early 2000s. The company fell on bad times. In a nutshell, Oinkers went out in a blaze of glory," he added.
New ownership brought several name changes, soon settling on Happy Howie's and its signature logo of a smiling pup. Its flagship product was its sausages, which sold so well that the brand was found in such sizable retail chains as Costco, Meijer and Trader Joe's, Collado said.
Sales began to imitate a Cedar Point ride when vendor issues and delivery problems plagued the company, Collado said. Those big retailers dropped Happy Howie's, and things looked grim. By 2011, the company was thinking about closing its doors for good. Eager to see if he could turn things around, Collado and a silent partner stepped up to take over the manufacturing facility on Dale Street and the brand. They tweaked the products' recipe. They updated the manufacturing processes, helping move the treats from the line to the store shelves faster. Retailers, such as selected Pet Supplies Plus stores, started stocking Happy Howie's again.
Industry trends, such as people's desire to buy "Made in the USA" as well as all-natural pet treats, have helped immensely, Collado said. He also credits his employees — including office and human-resources manager Peggy Malarik as well as quality manager and safety manager Kathleen Lienhard — and his Michigan-based vendors for making a turnaround possible.
"They were at a point where they almost couldn't trust us as customers. They really took a leap of faith with us," Collado said. "From 2012 through today, we've more than doubled sales. We've more than doubled employee count from seven people to 14. We've expanded distribution from 25 to more than 40 states. Things really have been looking up as we took care of those issues that were plaguing the company."
Now, Collado has big plans for Happy Howie's over the next three years. He wants an in-house charcuterie chef. He wants to have its products in all 50 states. He wants sales of more than $10 million annually. And he wants local celebrities, such as Kid Rock, to tour the facility and give the brand their stamp of approval. Even with this potential growth, Collado said he wants to keep Happy Howie's as a niche brand — being selective with where it is sold helps maintain a quality manufacturing process at home.
"Not only are we delivering an experience to our customers, but we're creating a brand. We want those two things to go hand in hand," Collado said. "If we sell our product everywhere to all stores, sales go up. But that can begin to sacrifice the brand and the quality."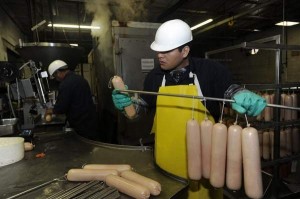 Karen Dybis is a Metro Detroit freelance writer.
https://www.happyhowies.com/wp-content/uploads/2016/02/HH_header_logo-Desktop.png
0
0
Happyhowiesblogger
https://www.happyhowies.com/wp-content/uploads/2016/02/HH_header_logo-Desktop.png
Happyhowiesblogger
2014-07-28 14:01:16
2018-05-25 14:13:46
Happy Howie's Natural Dog Treats on the News!