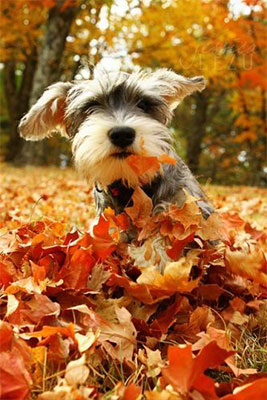 Photo source via pinterest
Fall is near—literally, this weekend! Let us help keep your dogs healthy and happy this season with some Fall health tips from Pet Health Network:
Watch out for those nasty ticks
Just because Fall brings colder weather, this does not mean those lurking ticks will not be near. According to the University of Rhode Island, many species of ticks are active even into the winter, and can survive the first frost— which is why it is so important to look out for ticks. Here is some great tips to help keep them away:
Eliminate their favorite environment, such as: leaf and garden litter (these help them survive during the winter months)
Frequently check your dog's fur for ticks
Use tick control and other repellent products, especially if you are outdoors often
Consult with your veterinarian about regular annual screening for tick-borne infections
Keep your Pet away from rat poisons and other rodenticides
Rodents always seem to find their way into our homes during the colder months, which is why many set up rat poison-type traps. Please be sure to keep the pets away from these poisonous products. Many on-the-market products can be very hazardous to our animals, even deadly. Try using live traps instead poison products. If you see a tail dangling in your pet's mouth make sure you tell them to drop it, remove the rodent & keep an eye on them. If you think your pet has accidently ingested a rodent, please consult with a veterinarian immediately.
Feed your pet the right foods
Since its starting to get cold, pets need more energy to help them stay warm. You might need to increase your pet's food intake—food generates body heat. Before you increase your pet's food intake get an approval from your veterinarian. Perhaps a serving of Happy Howie's treats will help give them the energy they may lack!
Beware of the antifreeze toxicity
Some people tend to use the Fall season as an opportunity to winterize their vehicles, which often involves regularly changing their antifreeze. This can potentially be deadly for your pets—one to two teaspoons of antifreeze can kill a 10-pound dog! Antifreeze contains a substance called ethylene glycol; Ethylene has a sickly-sweet smell that entices pets to lick it up. It is important to clean up spills immediately before your pet gets a hold of it.
Stay away from chocolates and hearty foods
The holiday season is approaching fast! We tend to indulge in hearty foods and sweets during this time, and it is important to make sure your pet eats none of it. Hearty foods and sweets can cause dogs to become very sick. Eating rich, high-fat foods can cause major stomach problems such as diarrhea, gastroenteritis even more serious conditions like pancreatitis. This is very important with Halloween coming up next month—keep chocolate away from your pets!
For more Fall Health Tips, click here
Check back with us soon for more of Howie's Howl!
https://www.happyhowies.com/wp-content/uploads/2016/09/fall-dog.jpg
400
267
Happyhowiesblogger
https://www.happyhowies.com/wp-content/uploads/2016/02/HH_header_logo-Desktop.png
Happyhowiesblogger
2016-09-20 16:31:49
2018-05-23 16:05:28
Fall Pet Health Tips