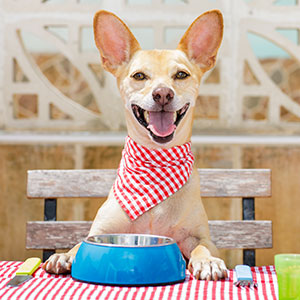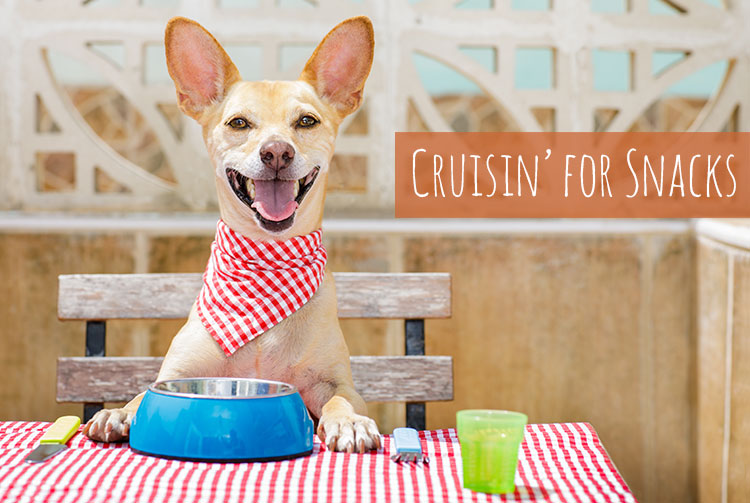 Cruisin' for Snacks! Cruise ship vacations are notorious for their boundless buffet offerings, around the clock food availability…and inevitable weight gain from the 24 hour indulging. To our dogs, we are the esteemed chefs presenting delicious delicacies for their around the clock indulgence.
As the chefs, it is our job to make sure we regulate the buffet line and incorporate both healthy meals and tasty nutritious snacks over the course of the day. For most dogs over a year old, feeding twice a day (normally morning and evening) and providing some snack times in between meals helps create a routine dogs crave. You can also use these times to reinforce training, teach new behaviors, and build the bond between you and your hungry diner. When feeding your dog his breakfast or dinner, have him sit and stay until you put the bowl on the floor and release him. If you walk past the counter and decide he needs a snack, have him shake or a give a high five to show his appreciation of the tastiness to come.
Our role as chefs also includes a bit of nutrition management, as it is our responsibility not only to regulate the quality of what we are "cooking", but the quantity served. Just like cruise patrons, our pups are perfectly willing to devour mass quantities of any cuisine we provide.
Although there is no definitive amount of treats you should give, we do need to be aware of the caloric value of snacks during the course of the day and adjust snacking and mealtime quantities accordingly. Just like cruise ship vacationers, mindless 24 hour snacking and eating can result in some unwanted extra pounds.
Relax and enjoy spoiling your pup with some healthy treats every day, however don't let them talk you into daily buffet-style binge sessions. By using a bit of moderation, this is one vacation that doesn't have to end.
—Kim P.
Canine behavior coach, behavior advisor, training counselor.
If your pup is cruisin' for snacks, treat them today!
https://www.happyhowies.com/wp-content/uploads/2019/07/Crusin_blog_300px.jpg
300
300
Happyhowiesblogger
https://www.happyhowies.com/wp-content/uploads/2016/02/HH_header_logo-Desktop.png
Happyhowiesblogger
2019-08-01 08:00:57
2019-07-31 08:58:17
Cruisin' for Snacks